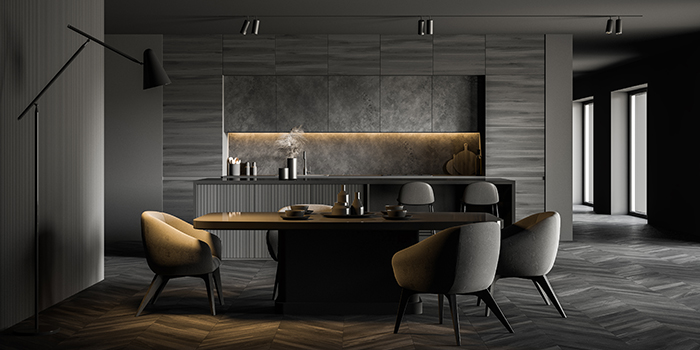 Getting Dark Themes Right: A Guide To Minimalism
Colours have a way of evoking certain emotions within us. That's why they play a crucial role in interior designing. The way we keep a home affects the emotions we feel and the way we think. And while a lot of people prefer using bright colours, there are some who are bold enough to experiment with their favourite dark hues- black.
Let me share a fact, black is not depressing. Black is the epitome of bold and classy. This colour resembles both masculine and feminine energy suitable for a neutral interior. Also, playing with black can be more fun than traditional whites and blues!
If you want to experiment with black, here are some tips from the designers of Shree Vidhatte- the best home interior designers in Mumbai.
Keep It Neutral 
An all black interior can seem daunting and depressing to some, the colour stands out like an abyss if it is not well matched with others. That's why neutral shades like white, beige or greys work the best in combination. Ensure that the colour you use balances the space along with ample light.
Black and White Flooring 
When it comes to flooring, combining black with white can add a balance. Checkered flooring never went out of trend and it can make your space look bigger than it is. So don't hesitate to give it a shot!
Standalone Walls 
Another trick is to use stand alone black walls. A small part of your room can be painted black and complimented with wooden furniture, photo frames, plants and lights. It will make that area the point of focus.
Accessories 
Who says a dark interior means only dark walls and floors? You can always play with dark furniture, black beddings, black photo frames, black vases and and other dark/black elements to compliment a colourful or neutral space.
Black Trims 
Want to add subtlety in a room? Just add black trims to your interior plans. Black trims have just recently come back in trend, and if used carefully, it can add depth to a room. But here's a catch, subtlety is VERY crucial with black trims, you don't wanna add trims everywhere. A simple paint on wooden glass doors or stairways is a good starting point.
Textures
Add a little drama with black textures. The most popular trend these days are black brick walls. However, you can also play with black marble, black paint textures, black stencils and more. It will help you add a little fun to a plain interior.
Final Thoughts 
Black is a VERY bold colour. You can either play with it cautiously or go all out, it's your choice! Your home should reflect who you are, and if you want to go black, then go black!
As interior designers, we help our clients make the most of their spaces. We have an eye for creativity and we can help you craft the best dark home interior designers in Mumbai with a lot of functionality. Drop us a message anytime!