Home Office Ideas To Increase Productivity During Work From Home
Times are changing and so is the way we work. Due to the worldwide pandemic, people were forced to work from home. This behavioral change  has had a long lasting impact on productivity. More and more people are embracing work from home rather than going to offices.
Therefore, home offices are now becoming a trend. The idea of combining comfort with productivity is becoming more and more appealing, especially to young professionals. If you are planning to remodel or convert a space into your very own personal office, then here are some home office ideas that could help you boost productivity during work from home.
Comfortable Seats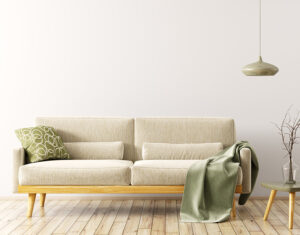 Comfort will never go out of style. And what's the best way to work? In comfort of course! Adding a sofa and fluffy cushions in your home office will add a homely feel to the space and allow you to relax during work. Ergonomically comfortable chairs keep you relaxed even after long hours of sitting in one place. Comfortable furniture helps avoid back-pain issues and keeps you productive.
Utilities
An office is incomplete without important office utilities. You can add open bookshelves, inspiration boards, soft boards or to-do list boards to take notes, keep reminders or stay motivated.
Natural Light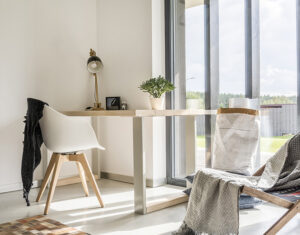 Whether it's home or office, natural light can brighten up any room. It keeps you energized through the day and also makes your room look more spacious and sorted. A good idea to utilize natural light would be to have your desk positioned directly near the window. Ideally, The working desk should be kept in the south or west at an angle facing north, east, or north-east side so that sunlight is easy to flow in and you can enjoy the benefits of sunlight by facing north or east side. Let all that bright goodness into your room!
Go Green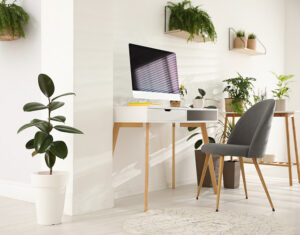 Plants have a way of soothing stress and filling the room with fresh air. Adding hints of small plants, including table succulents is a great way to fight stress and work in comfort. Plants have a positive impact on your health and they make space more homely, so it's a good idea to have a plant based interior theme.
Colour Scheme
Your home office gives you full opportunity to take advantage of incorporating your favourite color schemes. Make it your own personal corner with consistent colour schemes like black or white, grey or black or white and beige. The sky's the limit.
Be Minimal 
A minimal office home office design setting blocks distractions. Creating a minimal look is fairly simple. You can try incorporating this look with the help of chic furniture, few photo frames, a desk and ample natural light. Maybe throw in a simple color scheme and some plants to complete the look. Your distraction-free minimal office is ready.
Traditional- Modern Fusion 
A contradicting design that perfectly suits each other like yin and yang. A traditional-modern style includes a blend of chic and stylish with comfort. You can create this look through wooden furniture, comfortable seats, plenty of photo frames and cushions. You're ready to work in style!
Final Thoughts
We hope these home office interior design ideas give you a head start to create your dream home office. If you are looking for residential interior designers in Mumbai then don't hesitate to get in touch with us.