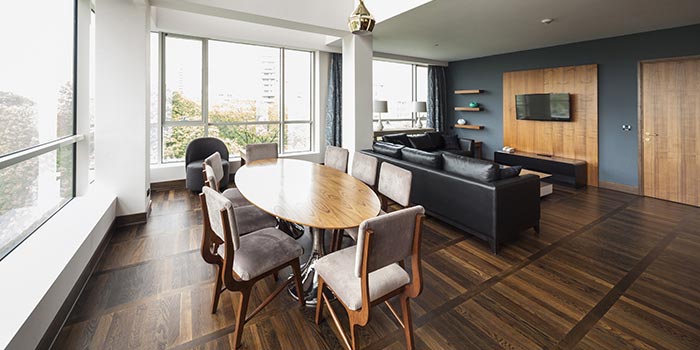 The Power Of Positive Aesthetics
Positivity goes a long way in improving the health and well-being of an individual. As humans, we naturally like pretty things. We feel at ease when we see aesthetics that soothe our eyes. That's why positive aesthetics play an important role in interior designing.
At Shree Vidhatte, our designers understand the importance of combining positive aesthetics through positive space and functionality for this sole reason. Now before we dive into the power of positive aesthetics, let's first understand how aesthetics affect us psychologically.
What Is Aesthetics?
Psychology says that aesthetics have a 'halo effect' on our minds. Humans tend to associate good looks with positive qualities. This then leads to positive thoughts and a feeling of being complete. In the discipline of interior designing, positive aesthetics is achieved through positive space and functionality, these two factors are crucial for creating the perfect interior.
What Is Positive Space?
Positive space is a space which is occupied by materials, elements and objects that are combined together strategically to create the full picture. The perk to this space is that each element plays an important role in functionality. The energy of this space is determined by how it makes you feel, therefore a clever combination that makes you feel happy, comfortable and at ease is considered a positive space in home interior design. The best way to use positive space is to combine it with a little bit of negative space as it can only be viewed through that light.
Benefits of Positive Aesthetics In Interior Designing
Enhances the way your home looks
Makes the best use of existing resources
Can transform any space into your dream home
Include elements that complement your way of living
Keeps your mind and body healthy
Tricks To Create Positive Aesthetics At Home
Declutter– Deep clean your existing space in order to declutter. This will help you figure out areas and opportunities, and will save you time for organizing.
Focus On Sanctuary: Places like your bedroom play an important role in the way you live. Therefore, maximizing comfort and design can subconsciously spark relaxation. Ensure that the colours, textures, furniture and other elements are as per your taste.
Natural Light Is Key: Make the most of natural light. Light has a great way of enhancing any space. It makes a room look bigger than it is. Natural light keeps you energized and leaves you feeling positive.
Furniture: Furniture is essential but ensure that you don't overstuff furniture unnecessarily. Along with this it's important to restore broken or old furniture so that it's both functional and provides an aesthetic glow to the space.
These simple tricks will go a long way to change the way you live. Residential interior designers can also help you in this endeavor. Shree Vidhatte is one of the best interior designers in Mumbai, we work with you to create your dream space.
Get in touch with us anytime for interior designing solutions.